Hotel Info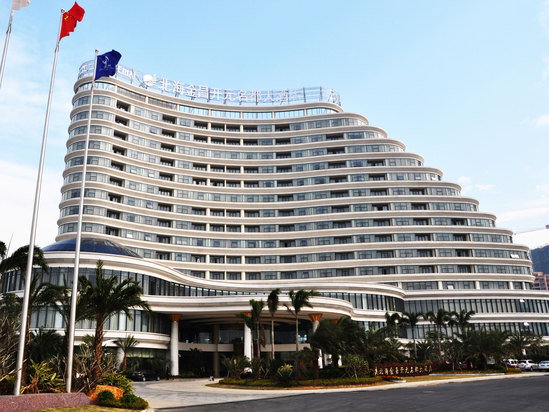 Golden Shining New Century Grand Hotel Beihai
, in front of it lies Shili silver beach, the famous scenic spot 'the first beach in the world', and behind it lies Zhucheng, a prosperous city. The white ship building is naturally integrated with the tropical scenery. The white sand waves and coconut shade of the treasure silver beach are full of the delicious fireworks and endless amorous feelings of the city. Here, you will be able to savor the seaside holiday time, experience our care.
The hotel is located in the center of Beihai Yintan tourist resort, a national 4A scenic spot. Since its opening, the hotel has been rated as 'popular tourist resort' of China Asian Hotel Industry golden olive award, 'global outstanding tourist resort', China Golden Horse Award 'China excellent service hotel', and 'excellent Conference Hotel' of China hotel industry alliance, It has been awarded as 'top 10 welcome hotels', 'top 10 parent-child hotels', 'famous restaurants' and 'luxury hotels' for many times.
With a total construction area of 38000 square meters, the hotel has 263 luxurious and comfortable guest rooms with unique sailing design. The sea view room has a view of the setting sun into the sea. The city view room can enjoy the prosperity of the city. The specially designed parent-child room can experience a variety of children's fun time. The full-time western restaurant, Xiangci tea restaurant, sijixuan Chinese restaurant and 13 Guofeng hall boxes form a complete catering system, Eleven multi-function halls of different sizes can meet the needs of different banquets and meetings. The boundless swimming pool, quiet leisure lawn, super cool children's paradise and other personalized supporting facilities show the seaside resort style.
Breakfast price
: CNY88($12.8) / person
Breakfast time
: 06:30-10:00
Breakfast type
: Buffet (Western, Chinese)